It's time for this month's Crazy Cooking Challenge and this month's theme is Chocolate Cake! I knew it would'nt be hard to find delicious chocolate cake recipes around my favorite blogs and I was right! The recipe I decided to make, Black Magic Cake sounded perfect for this challenge. It's a super dark, moist cake that looked irresitable. I found this cake recipe on a great blog....My Baking Addiction and I couldn't wait to try it myself. The frosting recipe I found on a local message board and gave it a try, I think it went pretty well with the cake....it may have been a little too sweet but overall the cake was a hit.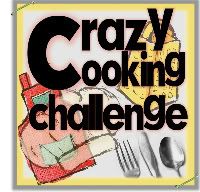 Ingredients:

2 cups sugar
1 3/4 cups all-purpose flour
3/4 cup HERSHEY'S Cocoa
2 teaspoons baking soda
1 teaspoon baking powder
1 teaspoon salt
2 eggs
1 cup buttermilk or *sour milk
1 cup strong black coffee OR 2 teaspoons powdered instant coffee plus 1 cup boiling water
1/2 cup vegetable oil
1 teaspoon vanilla extract
* To sour milk: Use 1 tablespoon white vinegar plus milk to equal 1 cup
Heat oven to 350°F. Grease and flour two 9-inch round baking pans or one 13x9x2-inch baking pan.
Stir together sugar, flour, cocoa, baking soda, baking powder and salt in large bowl. Add eggs, buttermilk, coffee, oil and vanilla; beat on medium speed of mixer 2 minutes (batter will be thin). Pour batter evenly into prepared pans.
Bake 30 to 35 minutes for round pans, 35 to 40 minutes for rectangular pan or until wooden pick inserted in center comes out clean.
Cool 10 minutes; remove from pans to wire racks. Cool completely. Frost as desired.
Chocolate Cream Frosting
4 1/3 cups plus 2 Tbs. unsifted powdered sugar
1 pinch salt
4 oz. unsweetened chocolate -- melted and cooled to tepid
1 1/2 oz. bittersweet chocolate -- melted and cooled to tepid
6 Tbs. unsalted butter -- cut into tablespoon chunks and softened
3/4 cups plus 3 Tbs. heavy cream
2 1/4 tsp. pure vanilla extract
Place powdered sugar and salt in large bowl. Add the melted chocolates, butter, cream, and vanilla. Using an electric hand mixer, beat for 1 minute on low to combine ingredients; continue beating on high for 2 more minutes or until very smooth and creamy, scraping down the sides of the mixing bowl several times with a rubber spatula to keep the frosting even textured. The frosting should be thick but creamy; if it seems too dense, lighten it with a little more heavy cream, added a tsp. at a time. Use frosting immediately.
Makes about 3 3/4 cups frosting