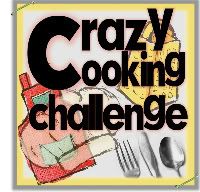 I was excited when this month's Crazy Cooking Challenge was for Fudge!!! We haven't made fudge in a while and I really wanted to find a good recipe for White Chocolate Peppermint Fudge and I found a great one by
Mindika's Moments
. I liked this one because it had an unexpected ingredient - cream cheese! I haven't ever used cream cheese in any fudge recipe before so I was so curious how it would turn out. Well this is a fantastic recipe. It's very easy to put together and it's really delicious. We tweaked the recipe a little bit to suit the ingredients we had on hand, mostly we changed the quantities of ingredients but kept the recipe as similar as possible.
Ingredients:
1 cup cream cheese
3 cups powdered sugar
2 cups white chocolate chips
1 1/4 teaspoons peppermint extract
1 cup candy canes, crushed
Preparation:
Line an 8x8 square pan with wax paper and set aside. With a hand mixer beat together cream cheese and powdered sugar (1 cup at a time) and peppermint extract until smooth. Melt white chocolate chips in a double boiler or microwave in 30 second increments until melted and smooth. Add white chocolate to cream cheese mixture, combine with a wooden spoon. Next add in crushed candy canes, reserving about 2 tablespoons to sprinkle on top). Stir candy canes into fudge mixture until combined well. Pour fudge into prepared square pan and smooth with a knife. Sprinkle the reserved crushed candy canes on top. Refrigerate for at least 2 hours and then slice and serve!!